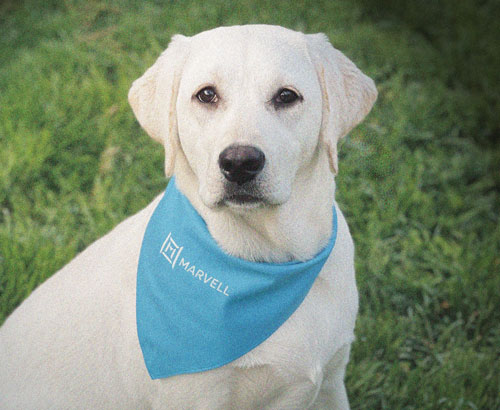 At Marvell, we know that your pets are an integral part of your family. We offer a variety of benefits to help support your furry, feathered, or scaled friends!
Who doesn't love photos of pets? Submit a ServiceNow ticket (category: Benefits) to request a Marvell pet bandana mailed to your house. Post a photo of your pet sporting the bandana to the #marvell-brand Slack channel, including your pet's name and a fun fact about your pet!
Did you request a bandana a few weeks ago through a survey link in the weekly wellness newsletter? Don't worry, your pet bandana is on its way! You'll receive an email update the week of March 8 with a delivery estimate and instructions on when to post your photo to the #marvell-brand Slack channel.
Benefits and Resources for Pet Parents